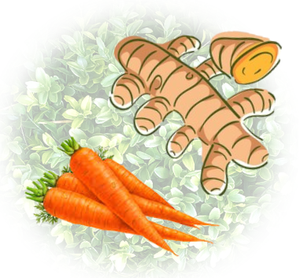 Sacred Showers Soap & More
Turmeric & Carrot
Regular price
$7.50
$0.00
Unit price
per
With the skin-loving power of carrot juice and turmeric, this luscious bar soap is sure to leave your skin happy!  Includes a yummy fragrance blend of Moroccan rose and light cedar mingled with warm amber, and a touch of patchouli and exotic musk.
Turmeric and its active component, curcumin, has anti-inflammatory, antimicrobial, antioxidant, and anti-neoplastic properties for skin care, per a study published at the Wiley Online Library.

Carrot juice, with its high beta carotene content, has long been used as an addition in soap to support healthy skin.  Many beneficial claims about carrot soap have been made over the years including: its antioxidant content removes harmful free radicals from the skin and may discourage bacteria-based acne; mild exfoliating from carrot's fibers for a deeper cleaning experience; and, carrot's vitamins A, C, and E along with collagen content helps reduce wrinkles and rejuvenate the skin.  While no specific skin-care claims are made regarding our specific soap, the fragrance alone invites you to add this luscious bar to your "Favorites List."  
Contains: Turmeric & Carrot juice. Distilled water. Saponified Olive, Sunflower, Coconut, Rice Bran, Palm [sustainably grown & harvested], Castor, and Palm Kernel oils, & Cocoa butter. Retained glycerin. Jojoba oil. Fragrance. Turmeric Powder.
Since handcrafted soap is all natural, it deserves a specific care plan to ensure a happy, long-lasting relationship between you and your soap.
Handcrafted soap is 1/3 glycerin naturally. Glycerin is a humectant meaning it attracts moisture. If left in water, glycerin in this soap will absorb water and the bar will begin breaking down. Handcrafted soap is best stored out of water so that it air dries; this means resting on a draining soap dish or standing on its side, out of the spray range of a shower head.
Take appropriate precautions to safeguard the life of your soap. We stock several soap dishes at reasonable prices.
When using soaps for body cleansing, longevity improves if you avoid rubbing the bar directly onto the body. Instead, use hands, washcloth or other bathing instrument to apply the soap to your body. This will also minimize encounters with any large pieces of herbs or exfolliants.
Store in a cool, dry place, preferably NOT under the sink if you have metal pipes. (The soap's glycerin can attract moisture from condensation on pipes heated as hot water flows through it.) Many people report storing soaps in linen cupboards and dresser drawers to freshen towels and clothing.
As with any skin care product, if irritation develops, discontinue use. As with any soap, avoid eye contact and do not eat the soap. Keep all soaps out of the reach of children. While every precaution has been taken to minimize this, products may contain large pieces of additives; exercise care when using.
If you are allergic to any ingredients in a soap bar, do not use the soap!
Some soap blends contain nut oils. Every effort has been made to note this in a description; however, no warranties or guarantees are made in this regard. Additionally, all soap making equipment is shared.
---
Share this Product
---