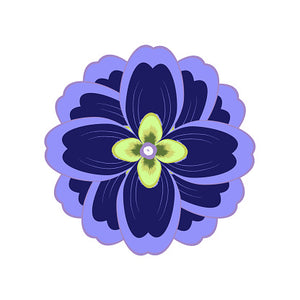 Sacred Showers Soap & More
Plumeria
Regular price
$7.50
$0.00
Unit price
per
Exotic floral scent of plumeria blossoms with a hint of ripe melon.  This limited availability bar soap is blended with coconut water and mango butter.  Enriched with the healthy omega fatty acid profile of HEMP oil. Includes rejuvenating purple clay for its anti-aging and skin-care benefits as well as color.
Purple Brazilian clay is contains Magnesium, Titanium, Silica, Iron and Aluminum. The beautiful, soft purple hue comes from it Magnesium, a mineral reputed to provide anti-aging benefits! Purple clay is also popular for normal, dry or sensitive skin as it helps nourish and detoxify, eliminating wastes such as impurities, oils and dead skin cells so that your skin can look healthy and refreshed.
Contains: Distilled water. Saponified: Olive, Palm (sustainably grown), Coconut, Palm Kernel, Castor, Sunflower & Rice Bran oils; & mango butter. Retained glycerin. Hemp oil. Fragrance. Purple clay.
Since handcrafted soap is all natural, it deserves a specific care plan to ensure a happy, long-lasting relationship between you and your soap.
Handcrafted soap is 1/3 glycerin naturally. Glycerin is a humectant meaning it attracts moisture. If left in water, glycerin in this soap will absorb water and the bar will begin breaking down. Handcrafted soap is best stored out of water so that it air dries; this means resting on a draining soap dish or standing on its side, out of the spray range of a shower head.
Take appropriate precautions to safeguard the life of your soap. We stock several soap dishes at reasonable prices.
When using soaps for body cleansing, longevity improves if you avoid rubbing the bar directly onto the body. Instead, use hands, washcloth or other bathing instrument to apply the soap to your body. This will also minimize encounters with any large pieces of herbs or exfolliants.
Store in a cool, dry place, preferably NOT under the sink if you have metal pipes. (The soap's glycerin can attract moisture from condensation on pipes heated as hot water flows through it.) Many people report storing soaps in linen cupboards and dresser drawers to freshen towels and clothing.
As with any skin care product, if irritation develops, discontinue use. As with any soap, avoid eye contact and do not eat the soap. Keep all soaps out of the reach of children. While every precaution has been taken to minimize this, products may contain large pieces of additives; exercise care when using.
If you are allergic to any ingredients in a soap bar, do not use the soap!
Some soap blends contain nut oils. Every effort has been made to note this in a description; however, no warranties or guarantees are made in this regard. Additionally, all soap making equipment is shared.
---
Share this Product
---